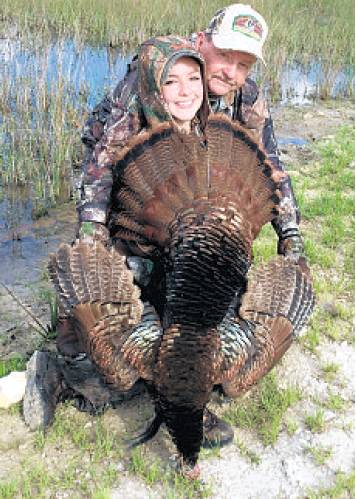 ROBERT CALLAWAY/COURTESY
Starr Bergeron shot this trophy wild turkey in Florida hunting with her father, Ron, last weekend in Hendry County.
As spring season nears end, hunters must be patient
As Florida's spring turkey season winds down, it's important to keep in mind that it's never too late to get a gobbler.
All it takes to bag a bird during the season's final days is knowing your way around the woods and patience.
The season in South Florida concludes Sunday and runs through April 24 in the rest of the state.
Although the wary birds are probably even more cautious after having an influx of humans walking through the woods since the season opened March 5, and perhaps having seen some of their buddies shot by hunters, they can still be lured within range.
Spring is when turkeys breed, and some gobblers just can't help themselves when they think they might get lucky with a hen turkey or when they believe a lesser bird is hooking up with a hen.
Starr and Diamond Bergeron took advantage of that tendency to each bag trophy Osceola turkeys while hunting with their father, Ron, on the family's property in Hendry County.
Diamond, the older of the sisters, almost wore out her father because she was intent on bagging a trophy bird. A commissioner with the Florida Fish and Wildlife Conservation Commission from Weston, Ron lured in 10 different turkeys before he called in one big enough for Diamond to shoot.
"How many times do you get to call up 11 gobblers?" he said.
But the 11th was a beauty with a 12-inch beard, which is the bristly protrusion that hangs from a gobbler's chest. Typically, the longer the beard, the older the turkey.
Diamond, who had passed on nice birds with 8-, 9- and 10-inch beards, posted a photo of herself with the trophy gobbler on Facebook.
Starr went out the following weekend with her BFF Renan Wilding and no intention of trying outdo her sister.
"I was hunting to get us some meat to eat," she said. "I didn't think I'd shoot a bigger one than Diamond's."
While she and Wilding were scouting on that Friday afternoon, Robert "RC" Callaway was scouting another part of the property and saw 16 turkeys fly up into the trees for the night.
Father, daughter, Wilding and Callaway were back there Saturday morning with a gobbler decoy that Bergeron affectionately calls Butch, but the gobblers they saw were with hens and not interested in leaving them to beat up Butch.
"They didn't want anything to do with Butch," Starr said, "and RC said we should go around the cypress head where we were hearing birds gobble."
Wilding was shooting video of Starr's hunt, but he decided three was a crowd, so Starr and her dad went after birds while Wilding and Callaway stayed behind.
Bergeron is an expert woodsman and hunter who uses the terrain to get closer to turkeys. That meant he and Starr had to slog through cypress swamps to close the distance without the gobblers seeing them.
"My dad was determined," Starr said. "He'd say, 'Just a little further.' We kept walking and walking and walking. We saw two hens and two jakes" — year-old males — "and my dad said, 'Let's get closer, maybe we'll see some gobblers.' And out of nowhere, these two gobblers walked out."
The Bergerons got down on the ground and deployed Butch, which got the attention of a truly huge gobbler. That bird slowly strutted toward them in an effort to make Butch back down.
"I was just lying there, hyperventilating," Starr said. "I thought I was going to pass out. You get so anxious with this huge thing coming at you. My dad said to just relax and breathe."
When the gobbler was 25 yards away, Bergeron yelped on his mouth call and the bird raised his head, giving Starr a clean shot with her 20-gauge shotgun, and the gobbler flopped on the ground.
"We stood up and hugged, then when we saw his beard, we were in even more awe."
The gobbler's beard measured 12 1/4 inches. Callaway texted a photo of Starr with a measuring tape next to the beard to Diamond, who posted this on Facebook:
"It's official. As of today, the 'Bobbsey Twins' (as Dad likes to call us), shot the two biggest turkeys … I'm pretty sure we've earned the right to be called the 'Turkey Twins' after this season. Way to go little sista!" swaters@tribpub.com; on Twitter @WatersOutdoors