By Anthony Man | Contact Reporter
Sun Sentinel
One of the most colorful figures in Broward County, the developer, entrepreneur and sometime alligator wrestler Ron Bergeron, said Tuesday he's thinking about running for governor in 2018.
Bergeron, a Republican, has never run for office before, but he's been an appointed member of the Florida Fish and Wildlife Conservation Commission for about a decade. And he said Gov. Rick Scott – who'd never sought public office before his 2010 election as Florida's chief executive – is a role model for what a businessman can do as a governor.
Bergeron said he'd probably make a decision about running and an announcement in about four months.
"This is just something that's being considered at this point. I have to look at it with my family. It's certainly a big undertaking, and I'm one of these guys whatever I get into every cell in my body generates," he said in a phone interview.
"I really love Florida. My family's been here eight generations, and you know I'm very passionate about its future," Bergeron said. "When you step into something of this nature, you certainly put an impact on your family, and that's very important to me."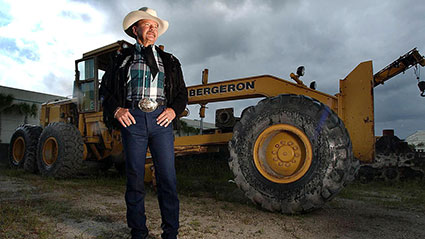 Bergeron, now CEO of the Bergeron Family of Companies, has a rags-to-riches story. He left home at age 18 with $235 in his pocket. He now runs a group of businesses – including highway construction, rock pits and quarries, agriculture, real estate development, waste development and disaster recovery services – that are so expansive that he doesn't know its employee head count. (It's in the hundreds, he said.)
People who know and have watched Bergeron for decades said his outsized personality would help him attract public attention.
Jim Kane, a South Florida pollster and lobbyist who also teaches political science at the University of Florida, said he's discussed a possible candidacy with Bergeron, but isn't working for him.
"I think he was serious about it. I think the Trump victory kind of encouraged him to look at this seriously," Kane said.
Kane, who's known Bergeron for 35 years, said he is an "unusual character. He has all the elements of an outsider and kind of that cowboy image and rough and tumble. He'd certainly be a different candidate for governor than anybody else. And that would make him stand out in a crowd."
Former Broward Democratic Chairman Mitch Ceasar and former county Republican Chairman Ed Pozzuoli, who have both known Bergeron for decades, said his candidacy should be taken seriously.
"He has a long history and deep roots in this community. He supports the community. He's been involved in a variety of things. He has obviously been quite successful. He's a true kind of Florida original," said Pozzuoli, who is president of the Tripp Scott law firm.
"We live in political times different than any we've experienced previously. A Bergeron candidacy would certainly have appeal in these times," Ceasar said.
Kane also added another important factor: Bergeron is wealthy and could afford to mount a serious effort.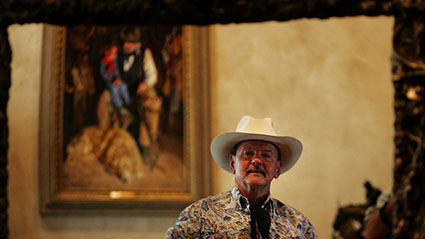 At age 73, he said he's not going to try to present himself something different than he is. "I grew up as a cowboy and a Gladesman out there in that swamp and I wouldn't trade those cultures for anything," he said. "When I grew to be successful, I didn't trade in my horse for a thoroughbred or my airboat for a yacht."
If he runs and wins, Bergeron said, "they're just going to have to put a hitchin' post at the governor's mansion" for his horse.
He's been nicknamed "Alligator Ron" because of his alligator wrestling background, but his friends call him Ronnie.
Bergeron said he's thought about what it takes to be a successful political leader. "The leadership skills to be able to form consensus is an art, and if you look back in history, because I've watched it through my whole career, the greatest governors and the greatest presidents were able to come to the center, and form a consensus for the best interests of the state and for the American people as a president. Leadership skills are very important," he said.
Bergeron said the many people have encouraged him to run. "I've had an awful lot of people that has looked at me and said, 'Why don't you do this? You're a great businessman and you've earned the respect.' This is coming from a lot of people."
Bergeron said he takes inspiration from Scott's performance as governor. "Look at what Rick Scott's done. That's a fine example of a businessman that's one of the best
[governors] I've ever seen," he said. "Government is a business," he said, explaining that people from the world of business "know we have to balance budgets and we have to create jobs for economic growth."
The Scott example also illustrates what a wealthy outsider can do if he decides to take on the political establishment. Scott was unknown in politics before he challenged – and defeated – then Attorney General Bill McCollum in the 2010 Republican primary for governor. In 2018, state Agriculture Commissioner Adam Putnam is widely seen as the Republicans' leading candidate for the party nomination.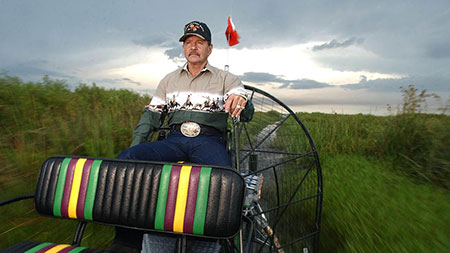 Bergeron was first appointed to the Fish and Wildlife Commission by then Republican Gov. Charlie Crist and reappointed by Scott. On the FWC, Bergeron said he's been the point person of one of the most important long-term issues facing the state: Everglades restoration.
He's also been involved in philanthropic efforts, including holding many fundraisers for charitable organizations at his ranch in Weston. One of the beneficiaries, is the Boy's and Girl's Clubs, said automobile dealer Rick Case, a supporter of the clubs and a friend of Bergeron.
People who know Bergeron said if he decides to run, he would be all in.
"If he runs he'd be a serious candidate. Everything he does in life is serious, 100 percent," Kane said. Case predicted if Bergeron runs, "he'll really get behind it in a big way."
Like Kane, Case said he's discussed the possibility of a run for governor with Bergeron, whom he'd support if it runs.
"He's a great community leader. He has a lot of great ideas," Case said. "Ronnie's a good guy and a great businessman. Started with nothing. Built a huge company … I just know he loves this state."