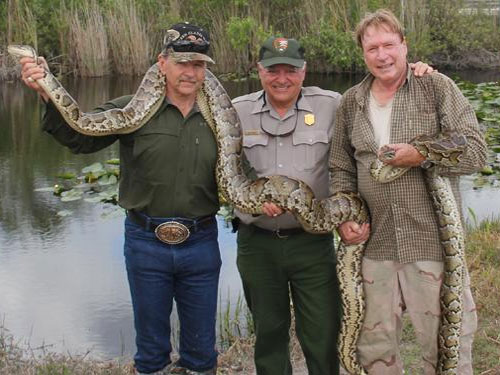 From pythons to lionfish to a few kinds of lizard, South Florida is invasive species favorite U.S. destination. That's a problem.
They were once welcomed into residential homes, but now a group of foreigners are targets of an extermination effort in South Florida. State officials agree that these "nonnatives" are silently scourging the environment. There are no reliable estimates on how many live among us – experts say tens of thousands—because they reproduce rapidly and skillfully move about undetected.
"It is a battle," says Kristen Hart, a research ecologist with the U.S. Geological Survey (USGS) in Davie. "It's an all-out war using every tool you know how."
Burmese pythons, objects of a state-sponsored slaughter, are wanted dead or alive.
They're just the beginning.
Florida is home to more than 500 nonnative fish and wildlife species and more than 1,180 nonnative plant species, according to the Florida Fish and Wildlife Conservation Commission (FWC). Not all nonnative species are considered invasive, a threat to the environment or people. But dangerous invasive species, like the Burmese python and lionfish, inspire hunts with big cash prizes. The 2016 Python Challenge runs between January 16 and February 14 and will involve thousands of hunters heading into the Florida backcountry looking to bag a big snake.
The FWC numbers reflect only the types of nonnatives experts have documented. Large swaths of the Everglades are too dense for humans to access. Can you imagine how many other foreign creatures are out there undetected?
"There are probably animals in places we'll never be able to get to and we won't be able to know what effect they're having," Hart says.
As a major port region and international hub, experts say South Florida is struggling with invasive species more than any area of the country. "We are probably the number one destination port area for the shipment of live animals across the U.S.," says David Pharo, Southeast Florida-based U.S. Fish and Wildlife Service Resident Agent in Charge. One out of every three inspections at its port, air and international mail facilities results in some law enforcement action. Commercial wildlife shipments are supposed to come through Miami International Airport only, but as Fort Lauderdale-Hollywood International Airport grows and expands, the agency is responding to more wildlife seizures there than at any other regional facility, Pharo says.
The challenges reflect the popularity of the exotic pet trade. In March, Global Pet Expo, billed as the pet industry's largest annual trade show, returns to Orlando, where it drew pet product buyers from 82 countries last year. In addition, pet shops and owners have been known to release their exotic pets into the wild, even if unintentionally. Like tourists and snowbirds, once they're unleashed, nonnatives find South Florida to be a hospitable environment.
"If a Burmese python got loose in Montreal, that would probably be it for the winter," says Timothy Collins, a professor in the Department of Biological Sciences at Florida International University. "But when a Burmese python gets loose in South Florida, it says, "Hey, I'm home."