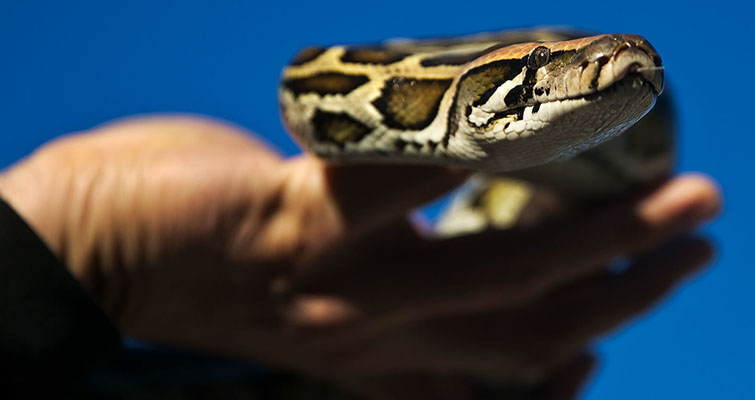 ALLIGATOR RON BERGERON, one of Florida's leading conservationists, steps out of his glinting gold-and-black Hummer. TV reporters wait below on the levee of the C-4 canal, which drains water from the Everglades toward Biscayne Bay. In snakeskin boots and a rodeo belt, he surveys the cameras. The right media shot is at the water's edge, with the marshland spreading away beyond. Behind him, water roars through a flood-control structure. Two handlers hold a Burmese python in a snake bag.
Bergeron flashes a Rooseveltian smile. His land-moving company has been responsible for much of south Florida's development and has made him rich along the way, but now his primary job is to be photographed taking part in environmentally friendly endeavors. "Ladies and gentlemen, I'd like to welcome you to the 2016 Python Challenge!" he says.
A century ago, south Florida was an unusable wetland, well known to the cavalry-hunted Seminole tribe but described by one colonially minded explorer to be "as much unknown to the white man as the heart of Africa," until an ambitious federal canal plan drained it for agriculture and wealthy settlers.