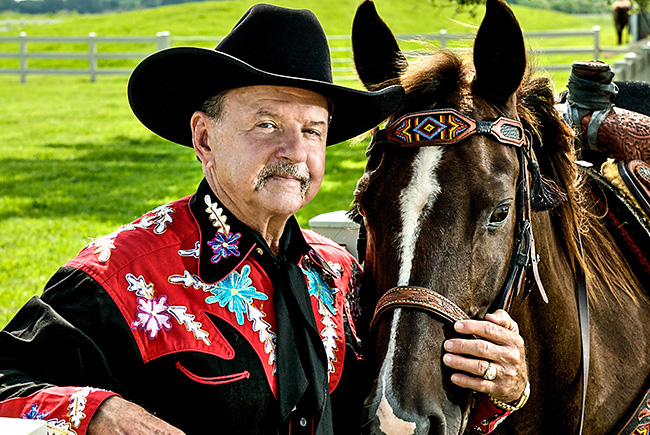 DAVIE, Fla., May 25, 2018 /PRNewswire/ — Alligator Ron Bergeron, Sr. has made the decision to take his cowboy hat out of the governor's race. The respected South Florida businessman, Everglades conservationist and former Florida Fish & Wildlife Conservation (FWC) Commissioner has announced he will not be launching a campaign for the governor's chair.
"This was one of my most difficult decisions I have ever made because of my love for Florida, all Floridians and my desire to make a difference for others. It was a family decision made with my life partner, Ali Waldman, and our children," said Bergeron. "It was a great honor for me to serve the citizens of Florida as an FWC Commissioner and I will continue to be fully engaged with all governmental agencies, state and federal. However, my family feels strongly that I should focus on continuing my advocacy of the Everglades as my priority. The Everglades are a source of drinking water for 8 million people and the day we destroy it, our quality of life will change for all of Florida."
Earlier this year, the prestigious Horatio Alger Association of Distinguished Americans, Inc., honored Bergeron, along with Lee Scott, Jr. (CEO, Wal-Mart), Rob Lowe, Reba McEntire, Jimmy John Liautaud (Jimmy John Subs), and other notables at its 71st annual Horatio Alger Awards in Washington, D.C. That honor was a significant milestone for Bergeron and also contributed to his decision to not enter the race at this time.
"Being inducted into Horatio Alger was a life-changing experience which will allow our family to make a philanthropic difference not only in Florida, but nationwide. I am so humbled to be in the company of such amazing people and by the extraordinary accomplishments of past inductees. Their unwavering financial and personal commitment to the Horatio Alger scholars is inspirational and contagious," said Bergeron.
"Instead of raising millions for a political race, I would rather raise millions helping others." Moving forward, Bergeron will continue his prolific efforts to preserve and protect the natural resources of Florida, especially his beloved Everglades.
"Amendment 1 sent a signal to politicians and government that over 70 percent of voters want conservation and protection of our natural resources," said Bergeron. "The Everglades are the largest restoration project in the world, in one of the largest wetlands in the world. I will stay fully committed to all Floridians and stakeholders to save this wonderful treasure."
Now that he has made a final decision, Bergeron is renewing his focus for the future that will include his conservation, philanthropic and entrepreneurial efforts, saying, "Our economy is built on small businesses. Private citizens and government alike must promote and ensure their success. As long as I live, I will commit my time working hard for the people of Florida as a private citizen, and to save one of the natural wonders of the world, the Everglades, for all Floridians."
As a businessman, Bergeron knows it is important that government is streamlined so small businesses can create jobs. He sees several qualified candidates already in the race and looks forward to supporting a governor who is trustworthy and who has a platform that stimulates economic growth and job creation. He also hopes the next governor's priorities include a focus on education, the environment and quality of life issues.
Bergeron is the founder of the Bergeron Family of Companies, which manages over 60 companies including Bergeron Land Development, one of the state of Florida's largest site development and roadway construction contractors, Bergeron Properties & Investment Corp., a real estate holding company, and Bergeron Emergency Services, a disaster recovery business.