WELCOME TO THE SITE OF RON BERGERON
Ron Bergeron was raised in South Florida, home to eight generations of his family where they lived and breathed a culture within the elements of nature. He grew up in the small Town of Davie with a population of approximately 500 where his parents owned and ran a small grocery store. "There were more places to tie your horse than park a car in front of his store. My parents expected respect, discipline, responsibility and kindness."
His success didn't come easy, "It was quite a journey, I was very disciplined." At the age of 18 he left home with $235.12 in his pocket and started clearing land with a machete, a rope and a 1954 Mercury truck to drag off the trees. His first business, Bergeron Land Development, was launched in 1965 when he bought a 1943 Ford Ferguson tractor. After the land clearing work started to slow he bought his first bulldozer and went from building driveways to building one of the largest contracts in the state at the time, the I95 – I595 and Sawgrass Expressway, I595 – I75 Interchanges. He is now one of the most successful and largest site development & roadway contractors in the State of Florida. Bergeron Land Development continues to be among Florida's Top 100 Contractors in Southeast Construction Magazine every year.
In addition to all of his entrepreneurial efforts overseeing an empire of more than 40 successful companies, Ron's dedication to all God's creatures extends to both the 2 and 4 legged kind. His love of the Florida wildlife and understanding of their needs to be protected motivates him to budget half of his time to Everglades conservation. He is currently serving as a Commissioner for the Florida Fish and Wildlife Commission and is the Florida Wildlife Conservation Point Commissioner over the entire Florida Everglades. In addition to this great responsibility, he was honored as 1 of the 4 finalists for the "2011 Conservationist of the Year" by the National Fish and Wildlife Foundation.
A true cowboy at heart, Ron Bergeron has competed in professional rodeo for 30+ years. In 1984 Ron qualified for the International Finals Rodeo in Oklahoma City, Oklahoma. To this day you can find him roping every Wednesday night at the Bergeron Rodeo Grounds which the Town of Davie named after his family to honor the contributions the family has made to the Town of Davie.
Ron Bergeron is personally responsible for raising millions of dollars for organizations such as the Boys & Girls Clubs, Partnership for the Homeless, the Homeless Center, Arthritis Foundation, Wildlife Foundation as well as countless other nonprofit organizations.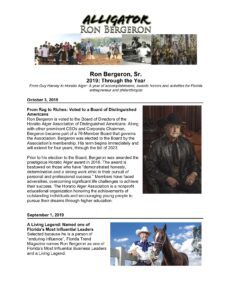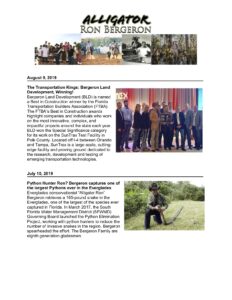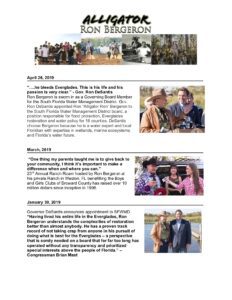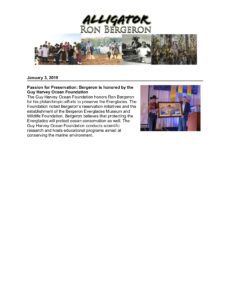 US Builders Review: Bergeron Land Development Inc.
Bergeron Land Development Inc. featured in US Builders Review
Read more
The Who's Who in Building and Construction
South Florida land developer dedicated to community and environment. Bergeron Land Development Inc.
Read more
GPS marking cameras at Bergeron's Green Glades West
Read more
Ron Bergeron considers throwing his (cowboy) hat into 2018 race for governor
One of the most colorful figures in Broward County, the developer, entrepreneur and sometime alligator[...]
Read more
Why is this Florida man chest deep in swamp water?
Florida Fish and Wildlife Conservation Commissioner Ron Bergeron, a lifelong Gladesman also known as Alligator Ron [...]
Read more
Florida Entrepreneur and Philanthropist, Ron Bergeron, Sr., Receives Prestigious Horatio Alger Award
PRNewsWire.com DAVIE, Fla., April 20, 2018 /PRNewswire/ -- His name is one of the most recogniz...
Read more
Governor Ron DeSantis Announces the Appointment of Ron Bergeron to the South Florida Water Management District Board
Ron Bergeron & Governor Ron DeSanti...
Read more
New SFWMD board hints at regulating water polluters, criticizes BMPs honor system
Tyler Treadway, Treasure Coast Newspapers Published 2:40 p.m. ET May 8, 2019 | Updated 2:40 p.m....
Read more
Federal money clears way for bridge project along Tamiami Trail to help revive Everglades
"This is a huge step forward to modify water delivery and allow the natural water flow to be restored to Florida Bay,'' said Ron Bergeron, a longtime Everglades activist whom DeSantis named this year to a board seat at the South Florida Water Management District.
Read more
16-Foot Python, 50 Eggs Removed From Florida Everglades
https://www.nbcmiami.com/multimedia/Near-Record-Python-50-Eggs-Removed-from-Everglades_Miami-...
Read more
Massive 16-foot python with nest of 50 eggs removed from Florida Everglades
https://www.foxnews.com/science/python-nest-eggs-florida-everglades-removed By Stephen Sorace |...
Read more
Florida Entrepreneur and Philanthropist, Ron Bergeron, Sr., voted to the Board of Directors, Horatio Alger Association of Distinguished Americans
Bergeron, nicknamed "Alligator Ron", is one of South Florida's most well-respected businessmen...
Read more